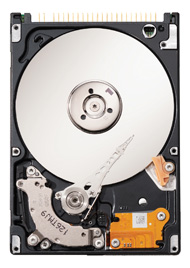 As long as I have had my MacBook Pro I have regretted ordering a 120GB 5400rpm drive. I ordered it when the it was first announced, and in my all my excitement I failed to notice the performance difference between 5400rpm and 7200rpm drives. My good friend Frankie quickly pointed it out; no, I didn't appreciate it. As much as I wanted to swap the drive, I just couldn't justify it because of the price and the fact that my drive is always full, until recently 160GB 7200rpm drives weren't even available. I was very excited when I learned that Seagate was releasing a drive for me, only to be disappointed to have to wait to actually receive it. Well the time has finally arrived and it was worth the wait. Anxious to justify my purchase I rebooted and ran back to back XBench tests to get a baseline before swapping in the new drive (more on that later).
After following the great disassembly instructions at iFixit and only loosing one screw I used my favorite Linux LiveCD Gentoo to dd the original disc which took just over an hour. I used the same technique I did for upgrading my Series3, and lucky for me, 2.5″ SATA drives use the same physical interface as the 3.5″ variety. I put everything back together and what do you know, it booted.
Just before I got started my friend Ryan reminded me that 7200rpm drives will kill my battery faster than 5400rpm does, thanks for hating on my new purchase! So just after I booted with my new drive and ran XBench a few times, I researched the drives specs and more specifically the power requirements. The original Toshiba MK1234GSX drive averaged 2.5 watts when seeking compared to the Seagate which was 2.3 watts, while the Read/write uses 2.0 watts vs 2.1 watts and lastly the idle/standby: 1.0/0.25 vs 0.8/0.25. So not only is the new drive bigger and faster, but it also uses less power!
On to performance.
I ran multiple XBench tests so I took the best from both.
Total Disk test results: 30.41 vs 41.86 or 27% increase.
Sequential test results: 35.76 vs 89.12 or 60% increase.
Random test Results: 26.46 vs 27.35 or 3% increase.
My overall XBench score also went from 83.64 to 97.54, which I think makes it well worth the $199 for the new drive, not to mention the additional 37GB of usable space and now I can turn the old 120GB drive into a pocket drive.