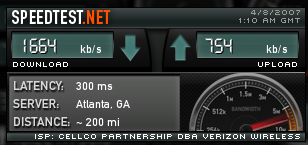 Ever since I started using a Mac I continue to be surprised when things "Just work", and today I am writing this with my new EVDO 740 Air card from Verizon. I have been wanting one of these ever since I changed jobs and my new employer supplied me with a phone from Cingular instead of Verizon. Cingular's voice service is good, but the data leaves alot to be desired. Unlike most of my purchases I didn't research this as much as I usually do. I was in a pinch and needed to get my Internet fix, previously my research had let me to Sprint, but tonight when I tried to go to the Sprint store they were closed at 7pm, and what do you know, Verizon was just across the street and open till 9pm. After waiting a few minutes Carlos was really helping me out and even got me a discount on the device or $100 instead of $179, no rebates!
So I was off, but concerned about activation, as reading that it wasn't possible to activate on a Mac. Reading the directions on my way home — yes while I was driving — I realized that OS X was supported and when I eventually plugged the ExpressCard in, I was amazed that I was on the internet in less than 2 minutes and all I had to do was insert the card, click ok a few times, followed by my password and finally hit the connect button. All I have to say is WOW! I wish using my XV6700 was that easy.
This is my first Verizon service and I am off to a great start, we'll see how long that lasts. Ohh did I mention it was fast?