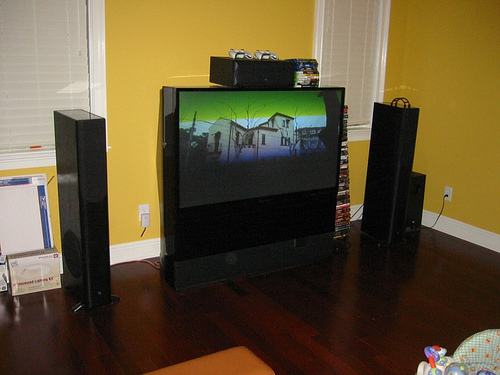 I have been writting online for just over a year and unless you listen to the Podcast you don't know much about me. I probably share more than many on my Podcast, (when I actually record one) but after talking to Dave Zatz I took some pictures and I want to share some of them as well as some details of my gear for any who want to see it. Yeah I know it's vain, but I guess thats me.
I most of the work myself with some help from my good friend Dave Evans who also feeds my habit by geting me good deals on supplies. I ran all the CAT5 cable and component cables throughout the house, but the alarm wireing was done already, most of it anyways, I had to run the wires for the glass break and motion sensors.
My Gear
Mitsubishi ws55813
Saphire towers and center
Speakercraft surounds
Series3 TiVo
Samsung BD-P1000 Blu-ray player
Video Storm 4×2 component matrix switch
HDHomeRun
Xbox360
Whitebox HTPC
Pioneer Elite VSX-33tx AV reciever
Elk M1-Gold alarm
Insteon Dimmers about 14
Cisco Aironet 1100 WiFi AP
Linksys WRT54GS router (wifi disabled)
HAI thermostat
MacBook Pro
G4 Mini
20″ cinema Display
32″ Sharp Aquas
So now that you have a parts list, just figure out where I live so you can take it from me. I will reference this list when filing my insurance claim.
Check out the flicker pool for all the pics.