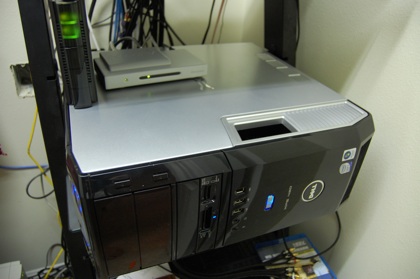 DHL delivered my ATI CableCARD tuner about 3:30 this afternoon, so it was hard to be productive at work knowing I had a new new toy at home and to make matters worse, I had to stay late due to some issues. After I got home it took me about 45 minutes to unpack the tuner, plug it in, check the firmware version and configure VMC to use it. It wasn't the most straight forward configuration and when I was all done, it didn't work. The video was more blocks than video. So later I went back to it and proceeded to monkey around with it for an hour or so until I finally got it working.
Here's the interesting part. I used one of the CableCARDs from my wife's TiVo, which was activated on the TiVo. And what do you know, it works fine. No I didn't re-pair, and no I don't understand why it works. I got the idea because the last time I paid $50 to RMA my Wife's Series3 — happened twice in 14 months — I didn't have to re-pair the CableCARDs.
Now that it is working, it's working great. Channel changing isn't as fast as I would've wanted, but it's about the same as the Series3. The good part is that the VMC mini-guide makes it easier to channel surf.
As for TiVo vs VMC, I have a full post coming, but rest assured VMC is better, but requires quite an investment in time to set things up.