As expected, I upgraded my MacBook Pro to Snow Leopard and my Sprint Novatel u727 EVDO modem wouldn't work. Basically the problem is you don't need the SmartView software, but it fails to uninstall. So here is how you manually uninstall it.
Disconnect the u727 and open terminal and run these three commands then reboot — always be careful with sudo and especially rm -rf, they can destroy your data if you aren't careful.
sudo mount -uw /
sudo rm -rf /System/Library/Extensions/NovatelWireless3G.kext/ 
sudo rm -rf /System/Library/Extensions/NovatelWirelessFilter.kext/ 
Now after you reboot, plug in the u727. At first it'll pop up like a USB drive, eject it and eventually a Network dialog box will pop up, so hit preferences — not sure if there is a way to always prevent it from mounting. Now you should see it listed with the other network devices other system preferences. Hit "Apply" at the bottom right, and now hit connect.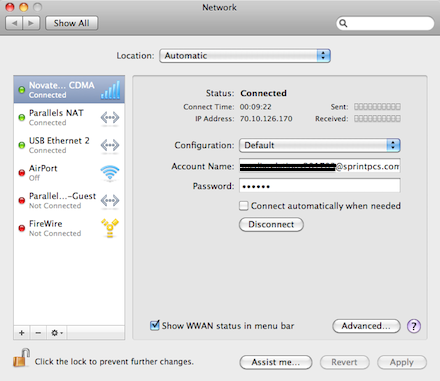 The best part is now you don't need SmartView and whenever you plug the modem in, the WWAN icon will show up on the menu bar which is much better and something that never worked with SmartView installed.