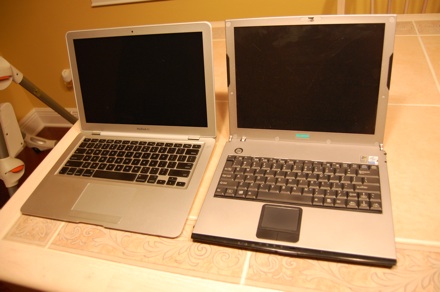 I've always loved small laptops and as silly as some think it is, the thinner the better. The MacBook Air is my third ultra-portable laptop and so far my favorite for a few reasons that MBA haters will find funny. The battery lasts longer, it is thinner and it runs OS X! The third is the most important of course. The other great thing about the MBA when compared to my older laptops is the keyboard and the screen. Not only does it feature full sized versions of both, but the keys feel good compared to my old um32w and about the same as my m300, but not as cramped. The MBA costs about the same price as my other two as well, but lets hope it lasts longer than my um32w which died after 14 months, with a sporadic power off issue.
The only thing I'm quickly learning to dislike about my MBA is the solo USB port, I've already purchased two hubs which will help out, but it would've been really nice to have two. So far my favorite thing is the way the MBA looks much thinner than it really is. The thickest part is .76-inches thick, which doesn't seem much thinner than my um32w which was .8, but when you put them next to each other the MBA sure does look smaller.
In the end I recognize the MBA isn't for everyone, but it's for me. I just wish Apple would make a 13-inch MacBook Pro, 'cause I think this would help cut down on the MBA hate, who had their hopes up for a replacement to the 12-inch PowerBook.
Check out all the pictures comparing my um32w to my MacBook Air.